Supports Machine Tool Distributor, Methods Machine Tools, at Open House
Gibbs and Associates, developer of GibbsCAM® software for programming CNC machine tools and a Cimatron (NASDAQ: CIMT) company, announced today that it will support machine tool distributor Methods Machine Tools with demonstrations of its GibbsCAM CNC programming system at the Methods Metal Storm 2012 Open House event. GibbsCAM's programming capabilities will be featured in support of programming and post-processing to make parts on Nakamura-Tome multi-tasking machines. The Nakamura MTMs are among the 50 machine tools to be on display, under power, at the event. Other machines include Matsuura machining centers, Kiwa-Japan horizontal machining centers, Exeron die-sinking EDMs, Fanuc drills and wire EDMs, plus Feeler lathes, vertical machining centers, horizontal boring mills and 10-meter bridge mills. Methods Machine Tools will also hold technical seminars on various metalworking topics during the two-day event, which will be held at its headquarters, 71 Union Avenue, Sudbury, Massachusetts, on June 13-14, 2012.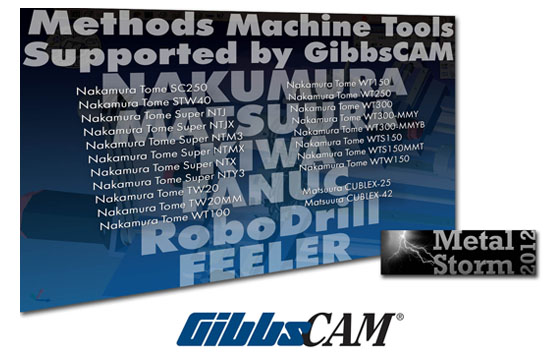 GibbsCAM's library of postprocessors exceeds 10,000, including over 1,100
for multi-tasking machines, such as the Nakamura-Tome MTMs sold and
supported by Methods Machine Tools.
"With the reputation that GibbsCAM has earned in programming complex parts on advanced multi-tasking machine tools, it makes perfect sense to be selected as the supporting CAM system for Nakamura-Tome multi-tasking machines," said Bart Ehlers, Regional Distribution Manager for Gibbs and Associates. "We maintain a growing library of more than 11,000 unique post-processors for our customers. That includes over 1,000 MTM post-processors, so we are pleased to demonstrate our superiority in programming MTMs, with integrated functions such as toolpath verification and machine-tool simulation, all accessed through a common, easy-to-use interface, in support of our partner and joint customers."
Gibbs and Associates maintains strong partnerships with various machine-tool builders and their distributors around the globe. These partnerships may include software development, technical support or cooperative marketing, all in addition to the continuous support of joint customers.