Will Feature High Speed Machining and MTM Improvements
Gibbs and Associates, developer of GibbsCAM® software for programming CNC machine tools and a Cimatron (NASDAQ:CIMT) company, announced its participation in Westec 2013, in Los Angeles, CA, at the Los Angeles Convention Center, October 15-17, 2013. GibbsCAM will be demonstrated in booth 3012.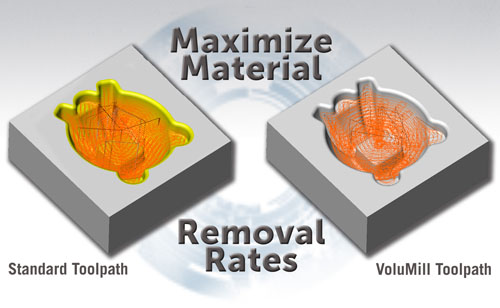 GibbsCAM's High-Speed Machining (HSM) capabilities will be highlighted, including GibbsCAM VoluMill, which enables milling cycles up to 3 times faster, while simultaneously reducing tool wear. In GibbsCAM, VoluMill maximizes material removal rates by generating toolpaths optimized for the highest feed rates, using constant tool loading, and automatically choosing the best option for individual pockets, including plunge speed and material removal rates.
GibbsCAM's powerful Multi-Task Machining (MTM) provides milling and turning functions in a single interface, minimizing programming effort to maximize programmer efficiency. A multi-task machine's specific configuration is automatically captured by GibbsCAM settings, with support for all utility operations available on the machine and its installed optional equipment. GibbsCAM MTM supports an unlimited number of tool groups, turrets and spindles, including those of Swiss-style machines. The software enables elimination of multiple set-ups, greatly improving part quality and production speed.
The broad range of enhancements in the recently released GibbsCAM 2013, all designed for programmer and machining efficiency, will be demonstrated. New capabilities for feature- and knowledge-based machining, plus contouring and pocketing improvements, and new, specialized options for turbomachinery parts and engine porting, will all demonstrate how GibbsCAM 2013 maximizes productivity and profits for its users.
For more information on GibbsCAM, visit http://www.GibbsCAM.com