Family-owned Precision Metalwork A Stop on the "White House to Main Street" Tour
Elyria, Ohio (January 22, 2010) – EMC Precision Machining, a fourth-generation, family-owned company that produces complex precision metal components for a diverse group of global customers, was a stop on President Barack Obama's area tour today prior to his Town Hall Meeting at Lorain County Community College.
President Obama met with EMC Precision Machining CEO Jeffrey B. Ohlemacher and President Bradley R. Ohlemacher before touring the facility and meeting many of the company's 44 full-time employees.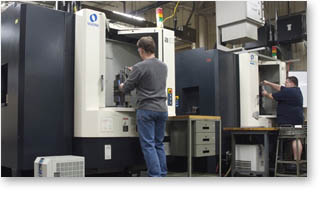 They showcased their 85-year-old business for the President, an enterprise that has weathered the economic storm by continuing to invest in its people, systems, and assets, and staying focused on the urgent machining needs of its customers in the industrial equipment, hydraulics, and pneumatics, transportation, medical, aerospace, and agriculture markets.
"The recession hit us hard, but we are working our way back," said Jeff Ohlemacher. "Continuous employee education and training ... keeping pace with the latest machining technologies ... investing in these priorities has kept our eye on our customers and ahead of the game even in these difficult times."
EMC's strength is in serving customers who need precision machined parts in a short amount of time. The company is often called upon to turn an order on a dime and prides itself on its ability to deliver when others cannot, Ohlemacher said. "The components we produce go into a wide range of applications, from machines that put glue on cereal boxes to critical hydraulic systems in helicopters."
The President's visit to Lorain County was the second stop on the "White House To Main Street" tour in which he is meeting with small business owners, students, workers, and local business leaders to discuss growing the economy and putting Americans back to work.
For more information, including photos and video from today's event, please visit EMC Precision Machining's website at www.emcprecision.com.