With Live Multi-axis Machining of Parts Programmed with GibbsCAM
Gibbs and Associates, developer of GibbsCAM® software for programming CNC machine tools and a Cimatron (NASDAQ: CIMT) company, today announced that its new release, GibbsCAM 2013, will be featured in the Willemin-Macodel, Inc. exhibit at EMO, the biennial international trade fair for metalworking technology. Several machines will be machining in the Willemin-Macodel exhibit, mainly components for watch and medical industry on multi-axis lathes and machining centers, most of them programmed using GibbsCAM. After the parts are modeled in SolidWorks (which is one of the many CAD formats that GibbsCAM reads), the solid models are opened by GibbsCAM, which is then used to program the individual parts for machining. The GibbsCAM post processors then generate the NC programs for specific Willemin-Macodel applications. One of the highlights of the exhibit will be the machining of a watch case to demonstrate the simultaneous 5-axis high-precision machining capabilities of the new 408S2 Willemin-Macodel machining center, which is also offered with a 4,000 RPM turning option. EMO will be held at the Hannover Exposition Grounds, in Hannover, Germany, from September 16–21. Willemin-Macodel's exhibit, with live machining demonstrations, will be in Booth C66, Hall 27. (Gibbs and Associates will have its own exhibit, featuring GibbsCAM 2013, in Cimatron Booth G30, Hall 25.)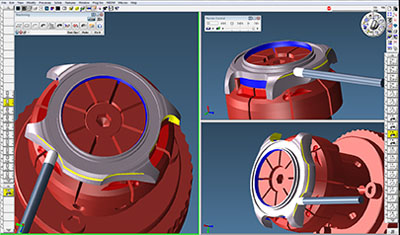 "We have supported Willemin-Macodel machines and its customers for almost thirty years, and consequently have been enjoying a close technological and marketing relationship with it," said Simon Voelker, Gibbs Distribution Manager for Europe. "We are therefore pleased to be part of an exhibit that shows the multi-axis, high-precision capabilities of Willemin-Macodel machine tools and demonstrates how easily GibbsCAM programs the Willemin-Macodel machines, including the new, full 5-axis, 408S2 machining center.
GibbsCAM is easy to learn and easy to use, and supports a broad range of machine tools, from the simplest 2-axis lathes, to wire EDM, to 3- to 5-axis milling and the most complex, multi-axis, multi-task machines. Of special interest to Willemin-Macodel users is GibbsCAM's flexibility and ease of use in programming precision machines for turning and simultaneous 3- to 5-axis milling and multi-task machining. The software opens CAD models from all the major CAD/CAM systems, in multiple formats, and includes its own modeling functions so that users can model and machine tooling and workholding devices, and generate geometry to edit and modify CAD models for efficient machining.
In addition, GibbsCAM and its users are supported by a current library of nearly 11,000 unique, error-free post processors which are created and maintained by a dedicated group of engineers at Gibbs and Associates. The library also includes some processors for Willemin-Macodel multi-tasking- and other machining centers.