Software to be Showcased at Interplastica Trade Show, Moscow
Givat Shmuel, Israel - January 23, 2014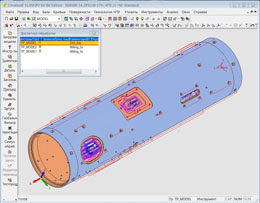 Cimatron Limited (NASDAQ: CIMT) today announced that its CimatronE and GibbsCAM software solutions will be demonstrated at the Interplastica trade show, Moscow, Russia, from January 28-31, 2014.
Among the large number of tool shops and manufacturers across Russia that use CimatronE and GibbsCAM is the CAD/CAM Center at the Samara State Aerospace University, a leading contractor for the manufacture of aeronautical parts.
The Center uses both software solutions to manufacture a wide range of complex aeronautical parts on its continuous milling and mill-turn machines for its commercial clients. Its production range includes impellers, turbine blades, hydraulic cylinders, landing gears, mold cores and cavities, and 3-5 axis discrete parts.
Dr Oleg Surkov, the Center's director and an associate professor of aircraft engine manufacturing at the University, noted:
"The Center's tasks are many and varied and the CAD/CAM programs we use have to be both reliable and robust given the fine detail involved in producing often complex, high quality aircraft components. CimatronE and GibbsCAM successfully address our needs, providing us with excellent machining results within our often tight timeframes.
"One of the major benefits of CimatronE is its 3+2 axis programming, especially multidirectional stock. This enables us to machine parts in the one set-up, helping to maximize the use of our machines and reduce the possibility of mistakes. It's also saved us hours in programming and machining time.
"GibbsCAM is successfully used for our mill-turn operations. We've also benefitted greatly from the optimized toolpaths that we can create in the software, thanks to its true simulation and full control over the machining process. GibbsCAM also provides us with a reliable library of post-processors for our machining tasks."
The CimatronE and GibbsCAM demonstrations at Interplastica will be held at the booth of reseller Bee-Pitron, hall 8, booth 83B02.