Givat Shmuel, Israel – June 28, 2011 – Cimatron Limited (NASDAQ and TASE:CIMT) announced today that it hosted open houses in Joinville and Sao Paolo, Brazil, with the aim of helping mold makers leverage new opportunities in the Brazilian manufacturing market.
The Cimatron Group, one of the seven largest global CAD/CAM suppliers, offers specialized solutions for mold and die makers, as well as solutions for 2.5-5 Axis production milling and turning. The company recently expanded its presence in Brazil by appointing a locally based country manager and recruiting four resellers to serve different regions of the country.
Brazil is a major global manufacturing center, with a significant plastics production industry. In May 2011, the Brazilian government announced incentives to increase the appeal of locally produced manufacturing machinery, opening up new markets and creating a larger pool of potential customers for Brazilian mold makers.
Following the announcement, Cimatron Brazil held two open houses in Joinville and Sao Paolo, aimed specifically at mold makers. The open houses addressed the growing need of local mold makers to deliver high quality molds faster than ever, focusing on how companies in other parts of the world dramatically shorten delivery time using CimatronE. Speakers also offered demonstrations of how CimatronE increases productivity, quality and profitability.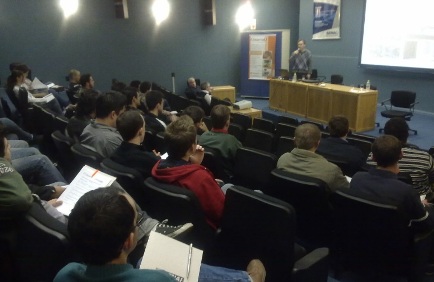 "We were very happy with the turn out and the success of the events in general," said Alex Censi, Cimatron Brazil's country manager. "These government incentives will make Brazilian molds and tools more appealing to local buyers, but mold makers will still have to stand out by offering the shortest delivery times, the most competitive pricing and the highest quality. Best-in-class CAD/CAM technology is essential to achieving these goals".
"The rapid growth that's expected in the Brazil market right now is a huge opportunity for mold makers," said Kobi Rosenwasser, Cimatron's VP for South America and APAC, who attended the events. "If mold makers put in the effort now to make their businesses more competitive in terms of delivery time, quality, and efficiency, they can really benefit from these opportunities. For those mold makers who aren't yet as fast as they would want to be: Cimatron has a proven record and we're here to help."
In Joinville, the open house was organized by CimatronE reseller CimaCAD. The open house in Sao Paolo was a collaboration between resellers Fitso, MTC and CadPro. The events took place on June 1st and June 2nd respectively.
About Cimatron
With over 28 years of experience and more than 40,000 installations worldwide, Cimatron is a leading provider of integrated, CAD/CAM software solutions for mold, tool and die makers as well as manufacturers of discrete parts. Cimatron is committed to providing comprehensive, cost-effective solutions that streamline manufacturing cycles and ultimately shorten product delivery time.

The Cimatron product line includes the CimatronE and GibbsCAM brands with solutions for mold design, die design, electrodes design, 2.5 to 5 axes milling, wire EDM, turn, mill-turn, rotary milling, multi-task machining, and tombstone machining. Cimatron's subsidiaries and extensive distribution network serve and support customers in the automotive, aerospace, medical, consumer plastics, electronics, and other industries in over 40 countries worldwide.
Cimatron's shares are publicly traded on the NASDAQ exchange and the Tel Aviv Stock Exchange under the symbol CIMT. For more information, please visit Cimatron's web site at: http://www.cimatron.com
This press release includes forward looking statements, within the meaning of the Private Securities Litigation Reform Act of 1995, which are subject to risk and uncertainties that could cause actual results to differ materially from those anticipated. Such statements may relate to Cimatron's plans, objectives and expected financial and operating results. The words "may," "could," "would," "will," "believe," "anticipate," "estimate," "expect," "intend," "plan," and similar expressions or variations thereof are intended to identify forward-looking statements. Investors are cautioned that any such forward-looking statements are not guarantees of future performance and involve risks and uncertainties, many of which are beyond Cimatron's ability to control. The risks and uncertainties that may affect forward looking statements include, but are not limited to: currency fluctuations, global economic and political conditions, marketing demand for Cimatron products and services, long sales cycles, new product development, assimilating future acquisitions, maintaining relationships with customers and partners, and increased competition. For more details about the risks and uncertainties related to Cimatron's business, refer to Cimatron's filings with the Securities and Exchange Commission. Cimatron cannot assess the impact of or the extent to which any single factor or risk, or combination of them, may cause. Cimatron undertakes no obligation to publicly update or revise any forward looking statements, whether as a result of new information, future events or otherwise.
For More Information Contact:
Idit Pass Lagziel
Marketing Manager
Cimatron Ltd.
Phone: +972 73 237 0298
Email: [email protected]
Ilan Erez
Chief Financial Officer
Cimatron Ltd.
Phone: +972 73 237 0114
Email: [email protected]