FOC Imagineering creates a unique scale model for Hootsmans architects. The assignment was to convert a chapel into a school building for the Communal Institution for Child Protection. The conversion comprised of twelve classrooms all of which are reversible and temporary.
The model was laser sintered in one go and mounted on a white base finished off with a clear display case, the scale for this model was 1:100.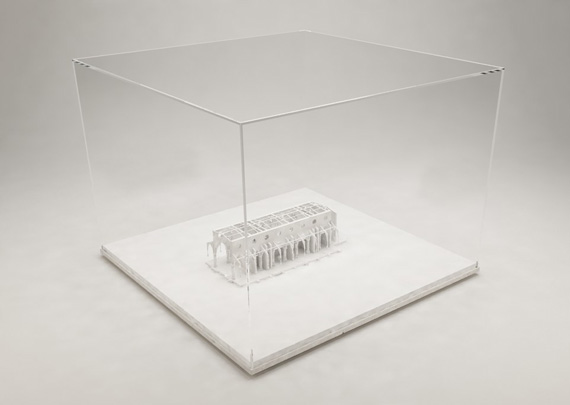 'It is wonderful having discovered the 3D printing process for the construction of our architectural models.  In the case of our design for chapel De Zande, with its fragmented interior, Laser sintering made a marvellous model.' -Hootsmans Architects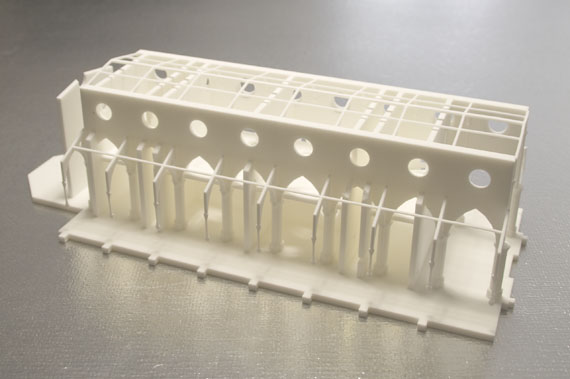 About the Chapel 'De Zande'
The site of the Communal Institution for Child Projection 'De Zande' at the outskirts of Ruiselede in Belgium houses a protected chapel. The chapel goes back to 1856 and till 1974 it had a religious function. Since then it has served mainly as a storage.
The assignment for the architect was to convert the chapel into a school building comprising twelve classrooms for lessons into general education. The conversion of the interior had to take into account the experience of the monumental space. This demand confronted Hootmans with a dilemma that they made into the core of their design. They fragmented the whole space of the nave and part of the aisles by means of dividing walls of the same height as the space. The newly created spaces are accessible by a corridor zone along the wall. The openings in the dividing walls provide for incidence of light and offer a view of the old structure.
For this they developed two methods:
1) daylight: depending on the time of the year with its longest and shortest day, June 21 and December 22, the sun enters via the round windows.
2) perspectives: from a couple of spots in the corridor perspectives are projected which make it possible to discern the full size and some old details of the building.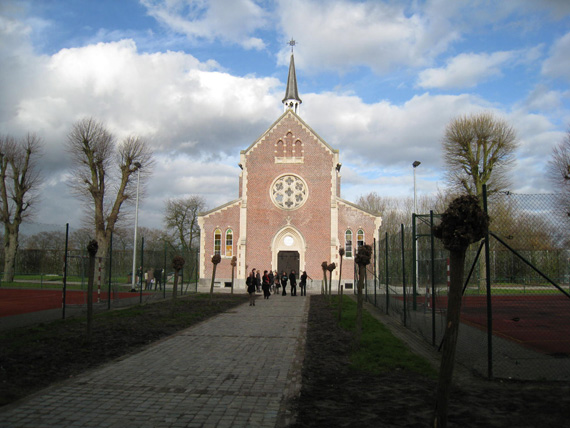 The result of these rational interventions is an emmental structure, that now and then is intelligible, but often mysterious, irrational and ambiguous. With this radical conversion we add something to the building that, also with regard to the materialization, clearly distinguishes itself from the existing structure. But everything we have installed is reversible and temporary.
From the jury report of the Vlaams Bouwmeester: 'Rob Hootsmans chooses to carry the unavoidable fragmentation of the interior of the chapel to the point of generating new qualities and meanings'.
project specification: 3d model of conversion of chapel
location: Ruiselede, Belgium
building surface: 3.000 m²
client: Vlaams Bouwmeester Department of Gemeenschapsinstellingen voor Bijzondere Jeugdbijstand van het Agentschap Jongerenwelzijn
year: 2008-2010