The Riot light, designed by Janne Kyttanen in 2008, first introduced during the 100% Design Fair in London has been selected for the permanent collection of the new Design Museum in Holon, Israel. This new museum is designed by Ron Arad Architects.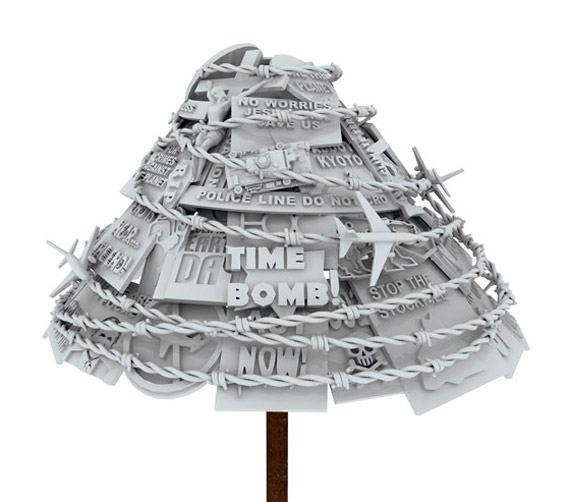 Design Museum Holon is part of a long-standing commitment to culture and education in the city of Holon.
The establishment of Design Museum Holon is a high point in the ongoing process of transforming the city of Holon into an epicenter of culture and education. Over the past decade, the city has introduced a wealth of edification programs, launched cultural festivals, opened new museums and introduced urban art installations, all leading to the enrichment of municipal life.
The primary goals of Design Museum Holon are to inspire and challenge the design community and the general public's perception of design and the way it affects their lives.

The city of Holon, under the direction of Mayor Motti Sasson and Managing Director Hana Hertsman, turned to Ron Arad, world renowned designer and architect, to create an iconic building that would provide visitors with an immersive environment in which to gain access  to and explore the world of design. Design Museum Holon would seek to embody Holon's longstanding dedication to culture and education and its desire to elevate the field of design into a leading position on the Israeli cultural agenda.

The Holon municipality has invested 17 million dollars in the establishment of the Design Museum Holon and is committed to providing continued support in the first five years of its activity. Design Museum Holon will lead the international and Israeli cultural landscape. The new museum joins the Holon Institute of Technology, Mediatheque and the National Israeli Cartoon Museum, all founded in Holon. 2010 will mark the first of many milestones in the journey to bring the discussion and exploration of design to the forefront. In conjunction with the museum's opening, the city of Holon will be celebrating its seventieth year and will feature design concepts in its many galleries, outdoor exhibition spaces and special events.