For the 2011-Q1 bracelet competition we have received a broad range of high quality entries. The jury consisting of Bart Ruijpers (Product Design Director of Karim Rashid), Frederik Roijé and good-old Janne Kyttanen have selected 'Spring bracelet' by Jan Kocha?ski as best design of this competition.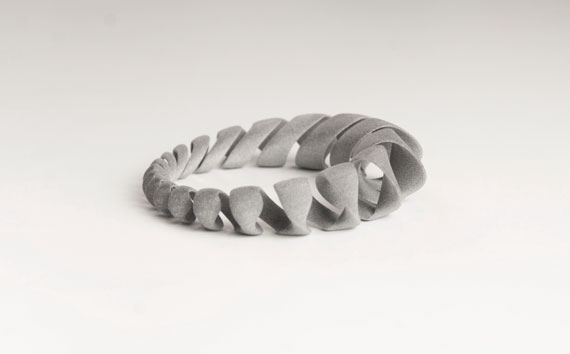 This is what the jury had to say about 'Spring bracelet':
"The design has an elegant complexity, in which we can see a similarity to the sensual and ornamental works of Karim, yet with a personal interpretation. The functionality of the stretching spring is nicely 'hidden' in the overall design and a good way to take advantage of the properties of the material and manufacturing method."
Jan will receive 250 Euro in prize money and a free 3D printed copy of his design. Furthermore his design will be commercialized together with 'Mbracelet' by Ionut Predescu. Both these Talents will receive 5% royalties on the turnover generated with their design. As of today both bracelets are for sale in the FOC online store for €87.