The first FOC Talents competition brief was created by jewelry designer Ted Noten and published on January 1st 2010. It always deeply surprised Ted Noten that the wedding ring has such a boring appearance. Two people decide to connect forever and they all wear the same stuff: gold and incidentally they put a little white gold with it or a little red gold or…
Therefore he challenged the FOC Talents to come up with a new wedding ring design. As part of the submission the Talent had to make clear that he/she did research on the phenomenon Wedding-Rings through history and in different cultures. In the design it also had to be clear that 3D Printing and the nylon material were the only way to realize the design. So to say: technology and material follow function and its aesthetics.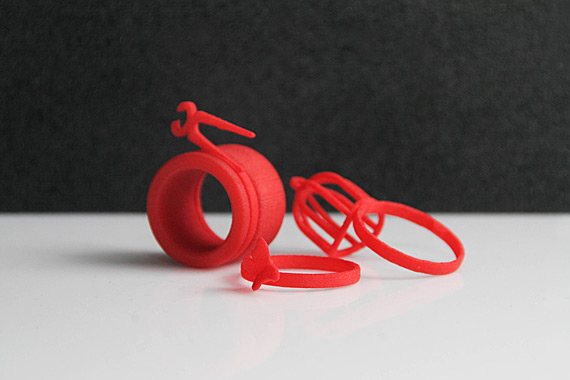 FOC has received 15 entries before the submission deadline of March 1st 2010, which are now for sale in the FOC online store. On March 10th the jury consisting of Ted Noten, Frederik Roije and Janne Kyttanen came together at the FOC HQ in Amsterdam to select a winner from these entries. After long deliberation the jury unanimously selected 'Reality Check' by Josien Pieters as winner.
The jury praised Josiens' witty approach to marriage and how she has translated both the historic Claddagh symbolism and today's marriage reality into a playful ring. The ring, consisting of 5 pieces, can be worn in different configurations. Just like the historic Claddagh ring each item of 'Reality Check' is a symbol for marital status, allowing the wearer to communicate this to the outside world.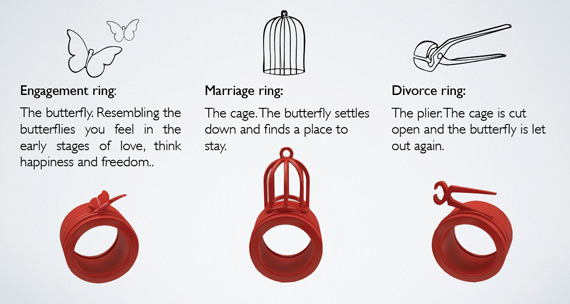 According to the jury 'Reality Check' fits perfectly to the current trend of people communicating their personal status to the outside world through (online) channels like Facebook. Also Josien Pieters has demonstrated with this design to comprehend and utilize the benefits of 3D Printing. 3D Printing allows producing this design more cost-efficiently than traditional manufacturing techniques: all 5 parts can be produced in one go and inside the small bounding box that was provided beforehand.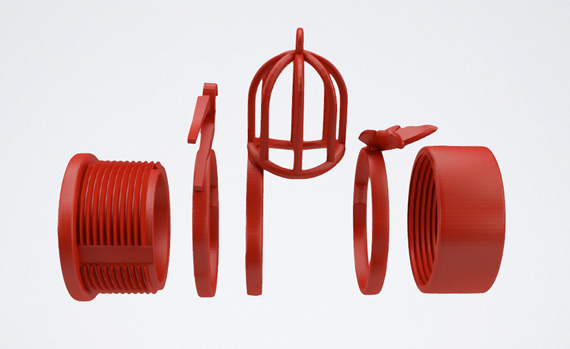 Since 'Reality Check' won the first Talents competition, a Stainless Steel version will be produced and sold in our online store. Also Josien has won 250 Euro in prize money.
Design entry 'CrisCros' by AAT ended up in second place. 'CrisCros' can be worn in two different ways, making one wedding ring design suited for Male/Female, Male/Male and Female/Female marriages. The standard version of 'CrisCros' has one finger entry with an inside diameter of 17mm (average Female finger size) and one finger entry of 19mm (average Male finger size). The jury judged this design as both poetic and functional.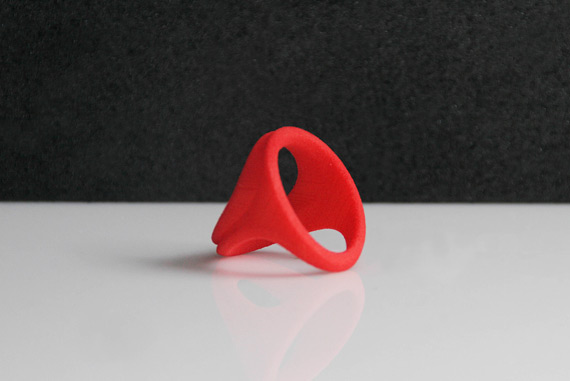 'ODE2U' by Schijn Design was selected third. Schijn Design was surprised to see that only since a few decades it is common for men to wear wedding rings. The designer about 'ODE2U': "I see marriage as putting the love for your partner above your own needs. That is why I created an Ode To Love". This ring shows an empty space where the man-ring should be and the branches carry the ring of the partner like an honoring. This symbolizes the way in which you dedicate your love to your partner while sacrificing your own freedom.'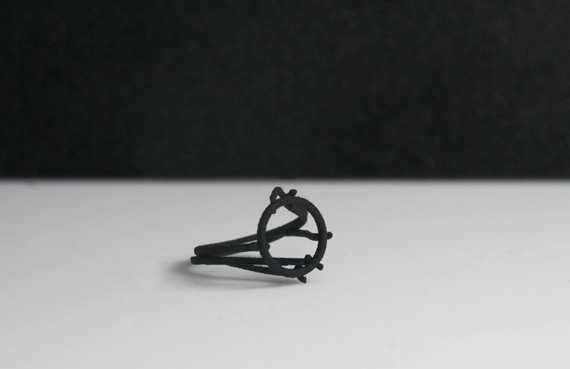 FOC wants to thank Ted Noten for partnering in the first FOC Talents assignment by creating the design brief and participating in the jury. Also FOC wants to thank Frederik Roije for joining the jury and representing the crucial third vote.