Over the past few years, 3D printing has risen to the occasion of rehabilitating animals struggling through life-altering injuries. Buttercup the Duck and Derby the Dog both received prosthetic limbs to get them back on their feet, but this time 3D printing and 3D scanning have taken to the skies with Tieta the Toucan.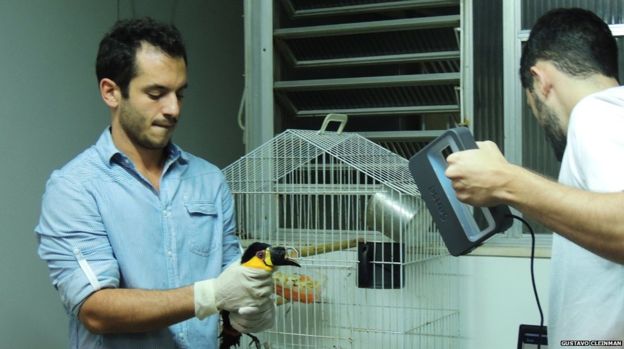 Tieta is a Brazilian toucan that was discovered and rescued in Rio de Janeiro with a severely damaged beak. Though it is unclear exactly how Tieta lost this portion of her beak, it quickly became apparent that the condition threatened her wellbeing, as a toucan's bill is its primary feeding tool. According to the BBC, Tieta had adapted to her condition by tossing food into the air to catch, but she was only successful a third of the time.
The wildlife management group Instituto Vida Livre put together a project involving three universities, the Sense 3D scanner, and 3D printing to restore Tieta's beak and independence. After a 40-minute attachment surgery in late July, Tieta's beak was restored in the appropriate size and shape, thanks to 3D scanning, and at the right weight, thanks to 3D printing. Within 72 hours, Tieta was back to eating normally, and will now be able to feed herself and future offspring without a struggle.
For more on Tieta's story, click here.