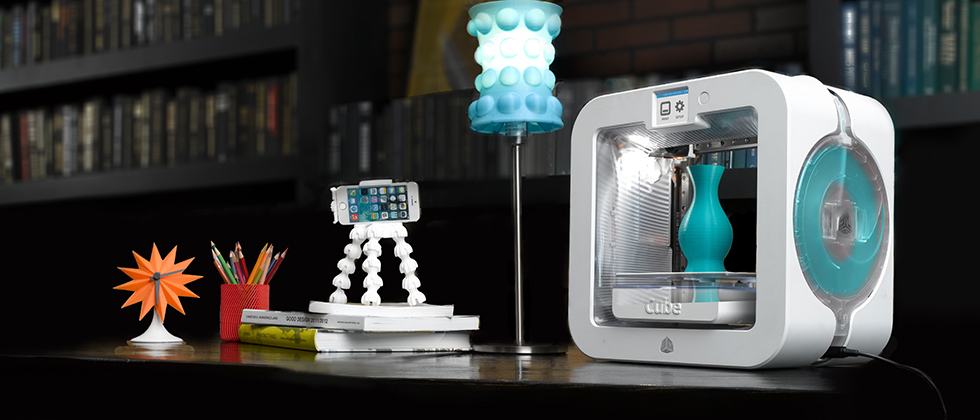 3D Print Week New York hits the Big Apple in a few short days and we couldn't be more excited. For the first time ever, we are hosting a Cubify Pop Up Shop at the Javit's Center on April 16th and 17th during show hours. We're gearing up with all our coolest 3D printed wearables, gadgets and hardware, from the futuristic yet timely NOOKA watches to our environmentally-conscious EKOCYCLETM Cube 3D printer, which exclusively operates using filament derived from post-consumer waste. For the ladies in attendance, we will have pair upon pair of United Nude 3D printed shoes for you to customize, try on and take home, as well as elegant, nature-inspired clutch bags and fierce yet feminine jewelry of all shapes and sizes.

For gadget gurus, we'll have all of our desktop 3D printing hardware, including Cube and CubePro 3D printers and Sense and iSense 3D scanners. If you're looking for a more organic modeling experience, don't miss your chance to try out our Touch haptic 3D stylus, the most affordable and intuitive way for you to get hands on with your design – literally – with a force feedback that makes digital 3D modeling like working with virtual clay.
We will also have fantastic GoPro rigs by 360Heros, as well as sleek frames by PQ Eyewear and a slew of rugged and refined phone cases by FreshFiber. This list is just a teaser though, so mark your calendar and make sure to stop by if you're in the area. You can find us in Exhibit Hall 1D at Booth 901.
3D Print Week wouldn't be complete without hands-on workshops. Don't miss these 3DS events around NYC hosted by our subject-matter experts during 3D Print Week:
Wednesday, April 15

,

 5:15PM

–

7:15PM – Jonathan Cornelus from our Quickparts division talks about applications for Direct Metal Printing (Javit's Center)
Thursday, April 16, 11:45AM – 12:30PM – Kyle von Hasseln, our Creative Director of Food Products talks about the future and current state of 3D printed food (Javit's Center)
Thursday, April 16, 4:15PM – 5:00PM – Jon Schull, the Founder of e-NABLE and President of the Enable Community Foundation talks about free, crowdsourced 3D printed prosthetics (Javit's Center)
Friday, April 17, 4:15PM – 5PM – Patrick Dunne, our Director of Industrial 3D Printing Applications Development discusses the simple yet multi-layered topic (no pun intended) of "How We Make". (Javit's Center)
Saturday, April 18, 11AM – 3PM – The Cooper Hewitt, Smithsonian Museum of Design will be hosting two workshops (one at 11AM and one at 1:30 PM) for kids and families interested in an introduction to 3D printing. Register here if interested. (NOTE: at Cooper Hewitt Design Museum)
You can find the complete schedule of events here, but in the meantime keep your eye out for our New York subway ad, and snag a pic to share on social (tag us @Cubify) for the chance to win a Cubify gift card. We look forward to celebrating 3D with you!