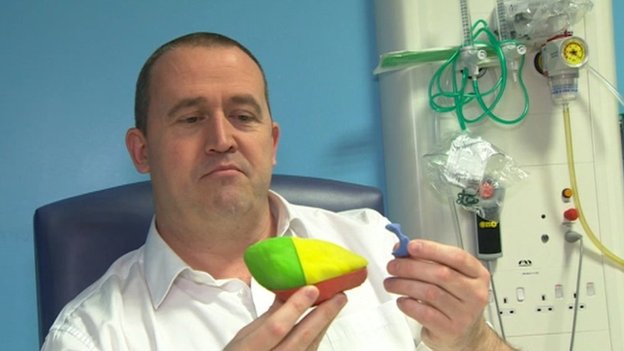 3D printing has popped up in the news around several healthcare stories in the past months, but the surgery of John Cousins stands out as one in which the patient provided the model. In what might have been the best accidental sales pitch, John Cousins, Managing Director of UK 3D printing reseller Isodo 3D, was presenting on 3D printing technologies to a group of doctors when he collapsed and was rushed to the hospital. There, doctors confirmed through scan images that John had a 3.5 cm 'stag-head' kidney stone and needed an operation.
An enthusiast and advocate of 3D printing, John immediately requested a copy of his scan data to convert to a printable file and created a detailed, full color 3D print for the doctors to examine and put to use.
The kidney was printed as a single piece with interconnected segments that the doctors could easily open to observe the location of the kidney stone. These segments were printed in distinct colors to help make the print more communicative, and created using 3D Systems' ProJet 660Pro full color printer.
The surgeons who performed the operation referred to the 3D print before the operation to better plan their process and map the best entry points, resulting in a faster and more precise operation.
Surgeon Dr. Bhaskar Somani said "the technology, which is more often used in "high-end" operations such as hip replacement surgery, could speed up procedures by 30 minutes." He hopes a trial with 20 other patients at the hospital will demonstrate its usefulness in future cases. Bhaskar continued, "It makes our job easier going in because it gives us a rough estimation of where to enter to be more precise."
After this successful introduction, John shared his belief that "3D printing should be for all, not just for one-offs."
For more on this story, check out this feature by the BBC.