Christmas comes early for manufacturing clients and engineers, starting the last week of November with EuroMold, a spotlight event for the industry and the premier showground for new 3D printing solutions. This year will be no exception as we at 3D Systems unveil our most powerful, innovative, and workflow-enhancing group of 3D printers, materials and solutions to date.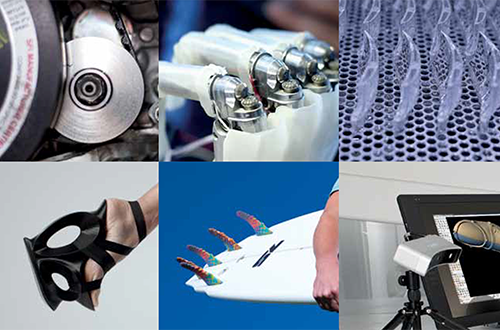 Leading the way is our tremendous new ProX 400 Direct Metal Printer (DMP), a complete production unit bringing full metal manufacturing capabilities and a larger build size to metal 3D printing. We're also featuring the latest in fab-grade SLA production with the ProX 800 3D printer - a dynamic blend of first-rate precision for complex geometries, production volume for large or multiple parts, and faster build times. For clients who want strong test- and end-use parts that durably withstand demanding environments, we bring you the ProX 500 Plus SLS machine. The ProX 500 Plus builds on the accuracy and production quality of last year's ProX 500 with significantly faster build times and a range of exclusive new composite material engineered specifically for high-performance applications.
We are also excited to bring five new materials to the desktop micro-SLA ProJet 1200, making it easier and more affordable for jewelers, dental labs, engineers and 3D artists to introduce versatile, affordable 3D printing to their workflows. These new materials include a FTX Cast for ash-free lost wax casting, FTX Gold and FTX Silver for making shimmering try-on models, FTX Clear for translucent prototypes and FTX Gray for paintable figurines. The multi-material ProJet 5500X is also expanding its material portfolio with new elastomer materials, the addition of which allows consumer product designers, engineers and more to use up to 14 different composite materials in a single build, no assembly required.
Finally, we're introducing new tools for the engineer's desktop: the Capture Mini scan-based design and inspection system with a more compact size and better accuracy for smaller parts, as well as groundbreaking new collaboration and workflow applications.
EuroMold is an exciting time for 3D Systems. Our commitment to our technology runs deep, and we are excited to bring these new products to our customers to help them become faster, more versatile and more creative than ever before.
Find out more about EuroMold 2014 at www.euromold.com. We hope to see you there!