Joe Borrello, Marketing Associate and Experience Ambassador
MONTAUK, NY – Even 3D Systems' number-one scanbassador (that's a contraction of scanner and ambassador, for those of you unfamiliar with my brand of ridiculous contractions) has to take a break sometimes, and last Friday, I was preparing for that very thing. That morning before coming into our crazy little Union Square office, I got all my bags packed for a week-long trip to the easternmost end of Long Island for some fun in the sun. In the midst of my commute, though, I realized there was something I hadn't packed: my shovels and buckets. These were essential items for constructing sandcastles (and I ask you, what 21-year-old doesn't love making sandcastles?). 'No worries', I thought, 'those things are just simple geometric shapes made of plastic. What can make things like that really well? The CubePro printer in our office.'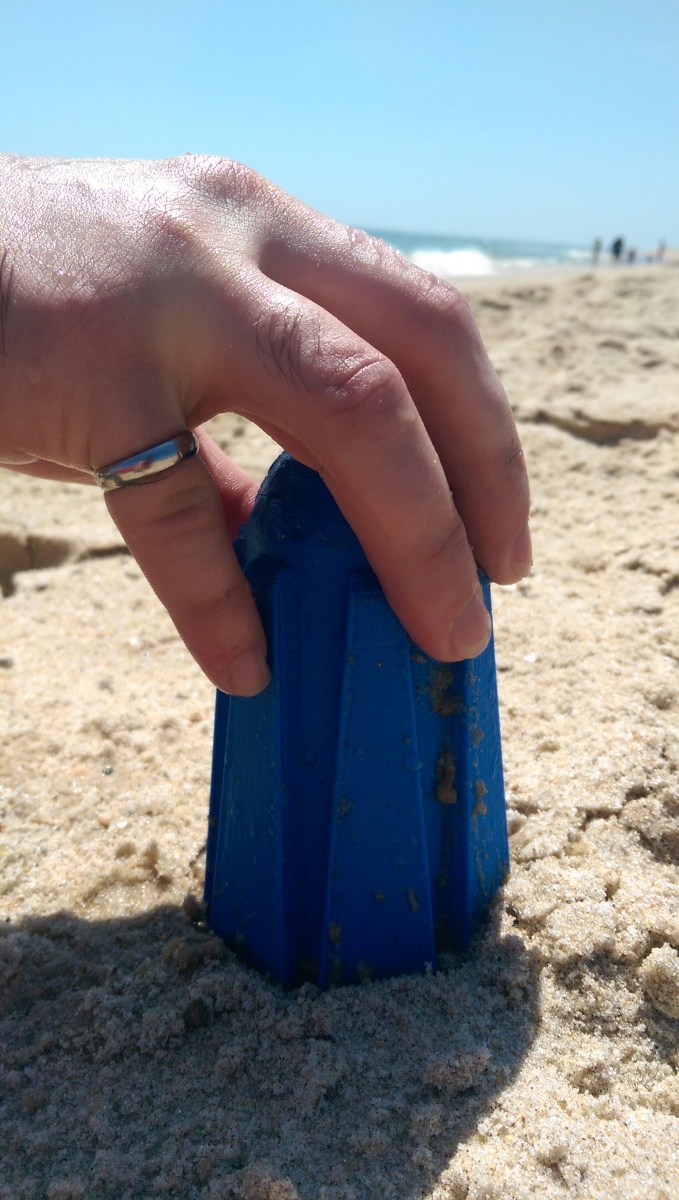 It was still going to be a challenge, though. From the time I stepped into the office, I had a mere three hours before I would be leaving to catch a train to Montauk – and I didn't even have a design for the sandcastle yet. I quickly opened my computer, launched some CAD software and began designing a structure that would at least somewhat look like the sandcastle buckets I have been bringing out to the beach since my childhood. Admittedly, the design is a little post-modern, but hey, I hadto optimize it for rapid 3D printing – and rapid it was.
With two and a half hours before my train was due to depart. I was bringing my STL into the CubePro slicing software. Now, 70-micron resolution is a beautiful thing and the CubePro does it well, but this was not the time to use it. With a little more than two hours before my departure, I needed to run this model off fast and functional – 300 microns it is. Boy, was it fast! The CubePro blazed through the model with a speed I have never before seen in a consumer 3D printer (and this is coming from someone who has used A LOT of other machines). Within 15 or 20 minutes, the sandcastle mold was already almost an inch tall. That was great, but that first section had no surface features anyway. What would happen when I got to the "turrets" of my sandcastle? The race was on.
Other work brought me away from our office for about an hour and a half, and when I returned it was essentially time to leave. Was my sandcastle finished? I looked to the CubePro, and, much to my delight, it was! It didn't look bad either; even at 300 microns, which in 3D printing terms is almost the equivalent of building something out of LEGO bricks, this model looked clean (and even ended up being watertight, but more on that later).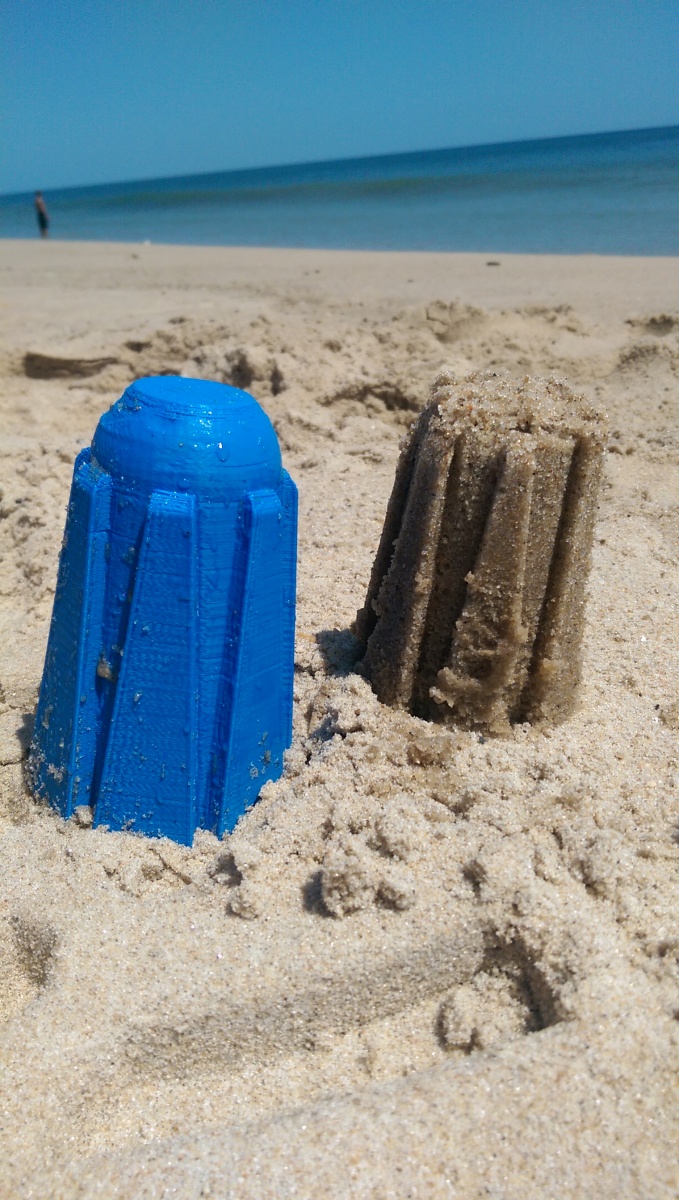 So, the first phase of my mission to bring 3D printed sandcastles to Montauk had succeeded. Now it was time to prepare for the second phase. After a crowded train ride through the Hamptons and a very tasty dinner of PEI mussels, I set out on Saturday morning for the beach, 3D printed sandcastle mold in hand.
The next test, was it waterproof? I get into the surf as a wave breaks in and fill the castle with seawater. No drips. Success. Now how does it fare making sandcastles? I fill the mold with damp sand, run to the drier sand and flip it upside-down. After tapping on the structure a little bit, I lift it away and extract a pretty sharp-looking sandcastle. And just like that, history is made! I am the first person to make a 3D printed sandcastle (if not in the whole world, at least in Montauk)!
As is the case with many first prototypes of groundbreaking (pun intended) technologies, my sandcastle was not perfect. For one thing, it an effort to maximize printability and speed, my object ended up looking more like a post-modern sand castle than the ones most toddlers make on the beach. Secondly, I ran into trouble a few times getting the castle out of the mold. My guess is the castle tapered too sharply and had small nooks and crannies that kept the sand stuck. Also, it was the first time I'd make a sandcastle in over a decade, so I might be a little rusty too.
All in all though, I would say my mission was a success. I went from idea to prototype in less than three hours and went from prototype to childhood in the course of an afternoon. Were it not for the CubePro, I would not have been able to bring my 3D printed passions to the most unlikely of places: a beach at the edge of New York.