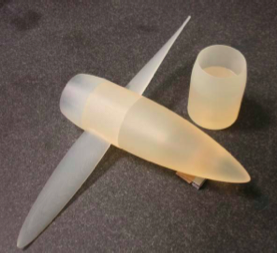 The University of Michigan's Human Powered Submarine Team is an annual participant in The International Submarine Races in both Maryland and England. To prepare for these competitions, the students design and build a submarine from scratch, relying on their creativity and innovation to devise clever and effective propulsion and guidance techniques. As the team went through its preparations this year, it ran into difficulties with its propeller design. 
In a happenstance meeting between the President of the Human Powered Submarine Team and Rick Kerkstra, Vice President of Burton Precision and 3D printing specialist, it was revealed that the team was struggling to make use of their propeller file. Specifically, they were unable to export their file in a toolpath-friendly format. Kerkstra took an interest in their project and assisted in converting their file to a usable format using 3DS' Geomagic® Studio Software.
Though the team had originally planned to create their propeller using a CNC machine, Kerkstra was eager to show them what was possible with 3D printing. Kerkstra says, "Because 3D printing technology is new to most of our customers, we still have to do some educating as to what it takes to develop a 3D printable file, and that it only takes a few hours to print the part."
The team agreed to try it out, and their propeller was printed using a 3DS ProJet 3500 HDMax printer. In its final rendition, the blade assembly was 10" long, and to the delight of both the team and Burton Precision, the propeller worked beautifully in the full-scale submarine test. As university workshops expand to match their students' needs with the available technologies, it may not be long before teams like this one have 3D printers of their own.