The recently announced 3DMT (3D Material Technologies LLC) division of ARC Group has purchased 3 Direct Metal Sintering (DMS) machines from 3D Systems for use in its Florida and Colorado facilities. The systems were supplied by 3D Systems' reseller, EMS Inc.,
On taking delivery of the new ProX DMS machines, Ashely Nichols, General Manager of 3DMT said in a company press release, "The technology in the ProX machines is what attracted us to the 3D Systems equipment. In particular, the ability to make stainless steel, titanium, aluminum, and alumina with fine powders, high-quality surface finishes, and thin walls…"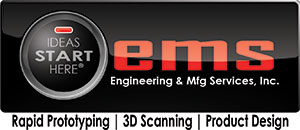 Mark Kemper, president of EMS, Inc, the reseller involved in the sale of the systems said, "EMS is very excited to introduce 3D Systems latest DMS technology to 3DMT. We believe 3D Systems' DMS 3D Printers are a true game changer in additive manufacturing."
See more about EMS, Inc at: http://www.ems-usa.com/