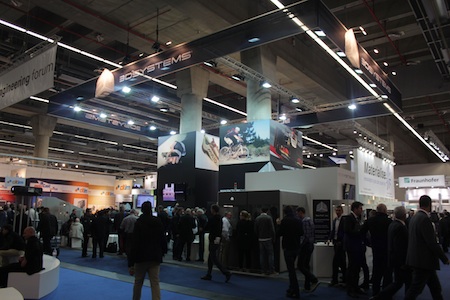 After four days of technology displays and product reveals, EuroMold 2013 has drawn to a close. To make its mark on EuroMold's 20th annual show, 3DS came in full form with crowd-drawing new releases, a 3D printed band, and the much anticipated appearance of the man behind the technology, Chuck Hull, the father of 3D printing and founder of 3D Systems. (Left: 3D Systems' busy Euromold 2013 booth.)
With that being said, here are some of this year's highlights:
-CNN International visited EuroMold this year to conduct a special interview for its inventor and innovation series with Chuck at the 3D Systems booth. Looking around at all the activity of Hall 11 (which is about the size of an airport hanger, by the way), the interviewer could not help but wonder if we would be here today if not for Chuck's revolutionary launch of 3D printing 30 years ago. The CNN feature is anticipated for release in January.
-TV coverage by Hessenschau, the primary news outlet for Germany's federal state of Hessen, reporting on everything 3D, from scanning to software to printing. Hessenschau couldn't help but comment on the vibrancy of the 3D Systems booth, distinguished as it was by a constant stream of visitors.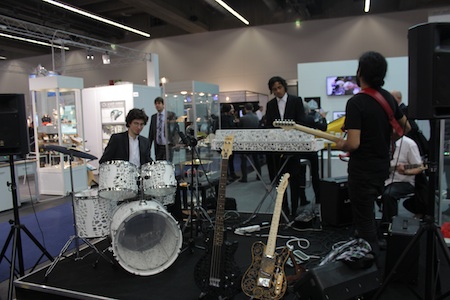 -Part of the liveliness of the 3D Systems booth might have had something to do with the fully 3D printed band that filled EuroMold with cool jazz rhythms—the perfect fusion genre for incredible fusion instruments. The music fascinated onlookers and created a relaxed atmosphere amidst all the cutting-edge technology. (Right: The band playing all 3D printed instruments.)
-3D Systems' consumer booth received swarms of visitors, each enthralled by the capability and versatility of the recently released Sense consumer scanner. Personalized live demos thrilled visitors with immediately 3D printable avatars.
-In addition to the products that have already received blog coverage, 3D Systems introduced the largest commercially available SLA system, the ProX™ 950, with a print bed spacious enough for a prowling tiger and dual ray technology giving it print speeds up to two times faster than related systems.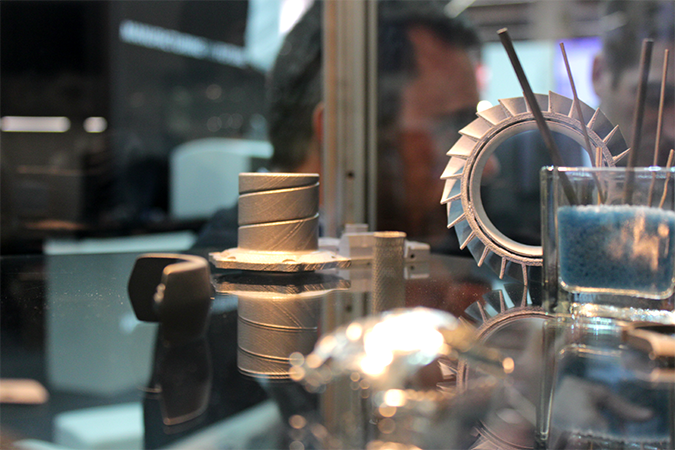 -3D Systems' ProX™ 300 direct metal 3D printer perpetually pulled in interested onlookers, mesmerized by the busily sintering (fully dense) metal geometries. (Left: Metal parts printed on the ProX 300.)