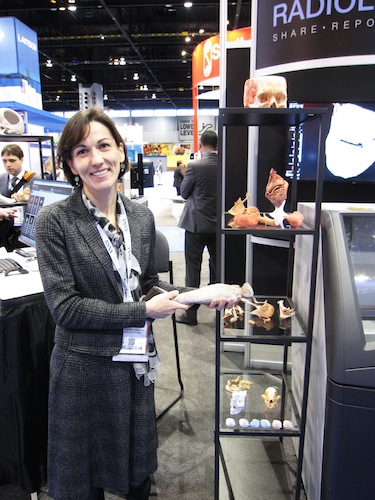 On December 1st, 3D Systems exhibited at the Radiological Society of North America (RSNA) 99th Scientific and Annual meeting, highlighting our newly introduced Bespoke Modeling and x60 series 3D printers, as well as Vidar Digitizers. Bespoke Modeling is a cloud-based, easy-to-use, affordable service that allows medical professionals to quickly create, view, share and 3D print full-color 3D anatomical models directly from DICOM data. At the booth we created 3D printed models using the Bespoke Modeling web application and printed those models live on the ProJet® 460 Plus 3D color printer. (Image left: Rozenn Bailleul-LeSuer with a mummified eagle.)
Special guest Rozenn Bailleul-LeSuer was on hand in the 3D Systems booth. Bailleul-LeSuer, a PhD candidate in Egyptology in the NELC Department of the University of Chicago and guest curator at the Oriental Institute, brought with her an ancient Egyptian mummified eagle. The mummified bird was CT scanned, and models of the bird and its bones were printed live as well.
Click here for more information on Bespoke modeling.