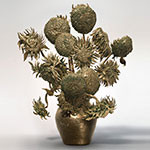 Vincent Van Gogh's talents exceeded many other artists of his generation. Now, with the help of 3D printing, one of his masterpieces is taking another leap. Husband-and-wife artists Rob and Nick Carter have created a physical 3D version of Van Gogh's famous "Sunflowers." In cooperation with international creative studio MPC, the Carters developed this striking sculpture from the original 2D painting with the help of digital design tools and a 3D Systems ProJet® 3500.
Using 3D design software, a team of designers and artists created the sunflowers and then added layer upon layer of three-dimensional brush strokes to mimic the painted strokes on the original canvas.
Once they'd completed the digital design, the team printed the sculpture on the ProJet 3500 using the VisiJet® material, which mimics the look, feel and performance of injection-molded ABS plastic. Then the final sculpture was cast in silicon bronze.
If you find yourself at the Fine Art Society in London before the November 2nd, stop by to take a look.