By Kevin Atkins, Geomagic Freeform Product Manager
We're in Anaheim this week at
SIGGRAPH 2013
, which goes through July 25
th
at the Anaheim Convention Center, and you should hear what people are saying when they get to sculpt virtual objects using
Geomagic Touch
haptic devices and
Geomagic Freeform
. Just to give you an idea, here are a few of my favorites: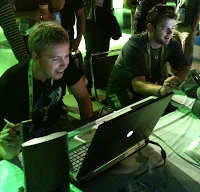 -"Guys, this is genius."
-"Oh my gosh. It's crazy."
-"I can actually sculpt from within the surface."
-"I totally get it. This is so fun. Fantastic."
-"I bet you could work so fast with this."
-"The sensitivity is amazing. It's so fluid."
-"Dude, this is the coolest thing. It's so rad."
-"How do you never fail a shell? I'm jealous. Very jealous."

But there were also plenty of questions. And the most important answer is: Yes, Freeform is available. It's on the market. It's not in a research phase. The software is mature, evolved and the 2014 version just came out.
A few other important questions/answers:
-Is this for sale? Absolutely. Check out www.geomagic.com or www.3dsystems.com for more information. -When did Freeform come out? It's been on the market for over a decade.
-Can you use Freeform without a Touch haptic device? No, the haptic device makes for a much fuller, more interactive modeling experience because you can actually interact and shape your model using your hands.
-Can you really never fail a shell? Yes, Freeform enables no-fail shelling.
There's more to see, so if you're at SIGGRAPH, come by the Studio space and give us a quote of your own.