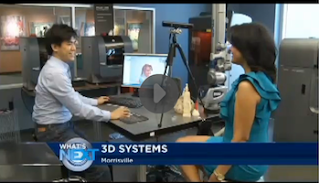 Since we deal with it every day, we at 3D Systems are so close to the incredible potential of 3D printing. So it's a nice reminder of just how amazing 3D printing and authoring technology actually are when we get to share them with someone—or even thousands of people—for the first time. It's cool to make people say, "Wow!"
We got to share some of those Wow! moments when Raleigh's NBC 17 featured 3D Systems and our chief strategy officer, Ping Fu, on a recent broadcast. For the story, Melanie Sanders visited our North Carolina office, where she was scanned and where we later 3D printed her a custom-designed souvenir bust.
If you missed it,
click here to see the report.