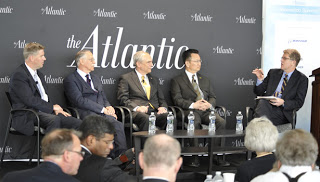 On May 8th, our very own Chuck Hull attended the Atlantic Innovation Summit, sponsored by The Atlantic Magazine. This event, to introduce the Obama Administrations Advanced Manufacturing Partnership and unveil Boeings Dreamliner, took place in Washington D.C. attended by the most prestigious scientists, top industry leaders and public officials. Chuck was in demand and participated on an Advanced Manufacturing Panel as one of just a handful of experts to discuss the hot topic of American manufacturing.

 

The clear message – there is growing recognition of the power and potential of 3D printing to re-localize and re-energize manufacturing

 

from the

 

Dreamliner and F35 Fighter Jet to myriad healthcare, recreation

 

and consumer applications.