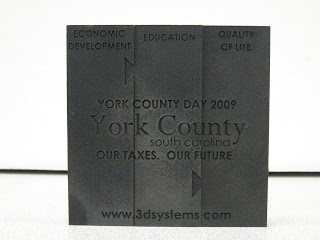 Not your ordinary gift!
The York County Chambers of Commerce chose 3D Systems' Pro Parts Marketplace to build this custom keepsake for State government officials.
The York County folks were looking for:
A token representing the York County area

A gift that could be displayed in the office

A memento representing the three essential assets to the future of the state and county, in the context of the York County Day event theme revolving around Education, Economic Development and Quality of Life
"Taking their idea, we created a 3-D CAD drawing and, after design approval, we took the resulting .stl file and were ready to build," said Kati McFadden, 3D Systems' RMC project coordinator.
"We really love the pieces," said Keith Costley, Chairman of the York County Day Committee. "We were looking to present the legislators with a gift that is truly unique to York County. Thanks to the 3D Systems' team we were able to achieve our goal in record time."
The Rapid Prototyping material used to build the keepsake is DuraForm® EX Black – which closely mimics ABS and polypropylene.
Got an idea for a part you would like to create? Visit our Pro Parts Marketplace and have your designs come to life!