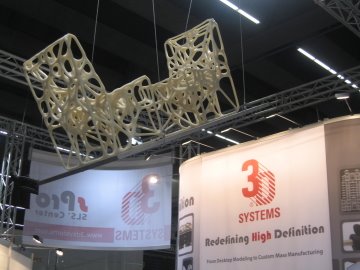 Two chairs produced in 3D Systems' Stereolithography material are set on the iPro XL platform. At 59 inches wide, it is the largest commercially available SLA platform in the world.
Hello from EuroMold 2008!
3D Systems is so excited to be part of this event that we decided to bring Frankfurt, Germany, to you through "Live @ EuroMold!" EuroMold is the World Fair for Moldmaking and Tooling, Design and Application Development. It has more than 65,000 attendees and 1,600 exhibitors. It runs from December 3-6. Read more about Euromold.
So, for our first entry, it is fitting that we welcome you to Hall 8.0, Stand G154. This area is also known as the 3D Systems booth. Here, we have the cutting-edge technologies – 3-D Printing, Stereolithography and Sintering.

Take a tour of our booth!