The Technology
"Year-in-Review" entries are fun. They give us the opportunity to celebrate new products and other happenings of the past year. It's also cool to look into the future (covered in Part 3).
Part 1 focuses on some of the new products that we introduced in 2008:
1. The new iPro Stereolithography Family: Spelled with a little "i" and big "P" for iPro. Mid-sized to XL precision centers. High-definition. Fast installs and new imaging technology of the iPro 9000 are making customers smile.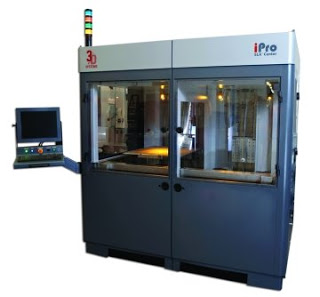 "The install went unbelievably well and before I knew it, we were building parts for revenue. It's good when you get a machine in and make revenue the same week."
– Gary Mitchell, Owner of Acu-Cast Technologies
2. ProJet Wax Printers: That's right – all wax for direct investment casting! The ProJet CPX got the attention of Desktop Engineering magazine's Lockwood. Read why he chose this printer as his "Editor's Pick of the Week."
3. Polypropylene Parts: DuraForm PP 100 was first shown at Japan's DMS Expo in June. The automotive folks went crazy. And ever since people cannot stop talking about it. After all, it's the first polypropylene material in the industry.
4. We Heart Metal: The Sinterstation Pro DM100 and DM250 SLM Systems build metal parts direct from metal alloys, including aluminum and titanium. Low-volume/custom manufacturing is fast. Digital dentistry is a reality. What's not to love?