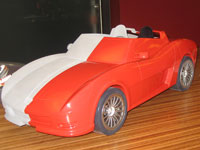 One minute with Lee Dockstader – full-time VP of Stereolithography, part-time photographer:
Q: What are visitors saying about the new
iPro 8000
running at the booth?
A: It's a great mid-range package.

Q: What about
Accura ClearVue
?
A: Is that bottle really made with a SLA System?
Q: What is it like at the 3D Systems booth and EuroMold?
A: Great line-up of equipment – all new within the last few months.
Q: Final thoughts?
A: The iPro-built parts at
CNC Speedform
are awesome! I took photos!