3D Systems wishes you a safe, joyous, and happy holiday season!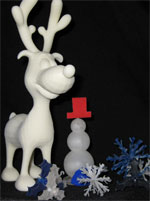 MESSAGE FROM ABE REICHENTAL, PRESIDENT & CEO, TO EMPLOYEES:
Dear Fellow Employee:
As we join our family and friends to celebrate this Holiday season, I want to thank you for your extraordinary support, dedication and commitment during a very challenging and unprecedented period. I am deeply grateful to have each and every one of you on this journey with me.
It's been a very turbulent year for our economy at home and abroad, and we at 3D were not spared the devastating impact of imploding world markets.... Nevertheless, in my daily contacts with you, I sense that all of us have confidence in our future and in the future of the marketplaces we serve. Despite the shaky economy, and the dramatic reshaping of global markets, our team remains focused on what we can control: doing what's right for our customers. It's this strong commitment that gives us confidence; it's this sharp focus that will ultimately help all of us grow stronger and more prosperous together. We are part of a young industry that will emerge as a leader in future economic growth, and we should be proud of our leadership in this industry.
At 3D Systems, this year was framed as the year of building a much stronger more complete product portfolio for the benefit of our customers. It was also a year of monumental tests of our strength, moral fabric and company spirit as we adjusted to new marketplace realities while continuing to move forward with our key strategic initiatives. I am deeply grateful that through all of these challenges, we have emerged stronger, more capable and well?positioned for the opportunities ahead.
Looking ahead, it is reassuring to see that there is a clear alignment between our customers' most pressing needs and the areas of our most ambitious investments. Our technologies and products are poised to enable a new era of energy efficiency and greater performance for the aerospace and automotive industries. Our leadership in health-care applications puts us on the front lines of the Rapid Manufacturing transformation…. a revolution in how we as a company and a society can improve quality of life conditions such as hearing and dental care. I believe that our recent innovations position us at the forefront of new manufacturing processes with potential so great that the world is just beginning to grasp the possibilities.
Beyond these market-facing efforts, particularly during these trying times, we believe that we can have a positive effect on our environment through the way we manage ourselves within our own walls, conserving resources and positioning 3D Systems favorably for the economic recovery ahead.
As we join our families and friends to celebrate the Holiday season, please join me in thanking our customers, without whom none of this would be possible, for entrusting 3D Systems with their business.
I would particularly like to thank our families, our spouses, partners and loved ones who stood by us and supported us throughout a very, very challenging year. On behalf of our entire 3D Systems family, I want to wish you and your family a safe, joyous and happy Holiday season and a prosperous New Year.
Season's Greetings
Abe