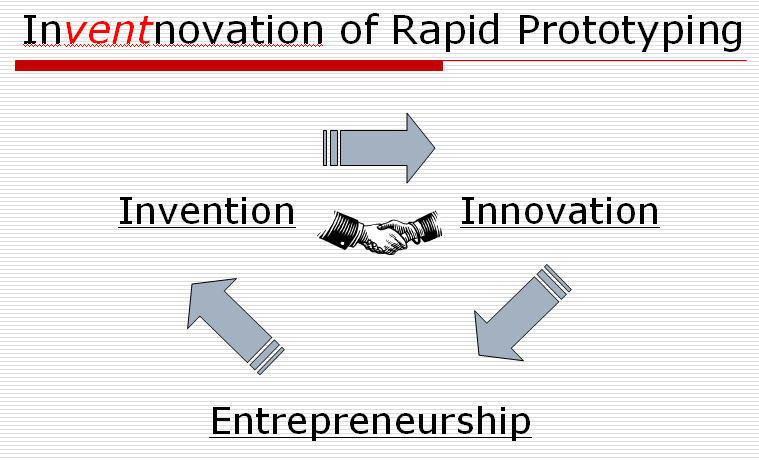 A slide from Chuck's presentation on the "High Tech Cycle" & Chuck with his 3D Systems business partner and the original Stereolithography system (1986). Read more about the inventor of Stereolithography & STL on Wikipedia.


Chuck Hull's presentation "Confessions of a Serial Inventor" at the 3D Systems World Conference caught the attention of Randall Newton, Editor-in-Chief of CADCAMNet. Here are some excerpts from his article, "STL Inventor Chuck Hull Describes the High Tech Cycle":
"... Once he got past the introductions and into the story of his life's work, Hull gave the assembled crowd of engineers an overview that was at once modest and fascinating, sharing the lessons of hindsight as the father of rapid manufacturing. ..."
"Invention is creating something new; innovation is the creative application of what is known. 'Innovation happens when you figure out how to make money from an invention,' Hull said, paraphrasing a comment he attributed to AT&T. ..."
"Hull sees the development and selling of high-tech products as three elements of a continuous cycle which he calls The High Tech Cycle. The first step is the invention, the second is innovation, the third is entrepreneurship. To complete the cycle, entrepreneurship cycles back to the invention. All three are required to bring new products to market, and each must be free to pursue excellence. ..."
"'If there is a path to money there must be an enterprise to take invention to innovation,' said Hull. 'The first spark of invention is not enough to bring a product to market.' ... "
"'High technology companies must constantly invent and innovate,' Hull notes. 'It is expected by customers and required by competitors.' ..."